ramshaw.info/netherlands
Here are some pictures from our May-June 2009 trip to the Netherlands.
We spent the first few days in Amsterdam, a town whose design maximizes the waterfront real estate opportunities by means of many canals lined with narrow 3-4 story row houses. Most actual transportation these days happens on the roadways that line the canals, though we did see construction materials being delivered by barge.
The houses are all walk-ups, with very narrow and steep staircases, as was also true of our B&B.
That explains the projecting beam in the center of each gable, which is how furniture gets hauled up and brought in through the windows.
And some of the houses in town are very narrow indeed.
Bikes (mostly one or three speed models, with full chain guards) are a major transportation option, with their own traffic lanes and often their own stop lights.
We saw a bunch of museums. This interesting building at the Van Gogh museum housed a special exhibition on his night-time paintings, leading up to the famous Starry Night one, with an audio guide (in English!) that was quite informative.
We saw the Anne Frank house, with its attic rooms hidden behind a pivoting bookcase, but didn't take any pictures there. We also saw a hidden Catholic chapel from the days when it wasn't safe to be obviously Catholic in town. A Catholic burgher bought three neighboring houses and combined their attics into a chapel.
After a couple days in town, we drove out to the country, passing by Kinderdijk, where two lines with 8 windmills each were used to pump the water up in two stages to the level of the river, where it could be drained off.
The basic design and the wooden gears and all reminded us of the grist mill on Nantucket, but these towers are brick and significantly more substantial.
Nowadays, of course, more modern machinery does the pumping.
But there are also lots of modern windmills.
Then we drove to an area in the northeast where a number of neolithic megolithic passage tombs are found. The largest one found follows the classic design of a long, narrow structure, built from a series of three-stone arches, with an entrance passage connecting to the middle of one side.
We saw others on small roads nearby. The structures would originally have been covered by a mound, and there are some that were surrounded by stone circles.
We also stopped by the Drents Museum, which includes some bodies found preserved in the peat, like the famous girl, Yde.
Then we drove a bit south and stayed for three nights in a "self-catering" unit in the carriage house of a mansion (that was being repainted), with large formal gardens in back that we could see from our window.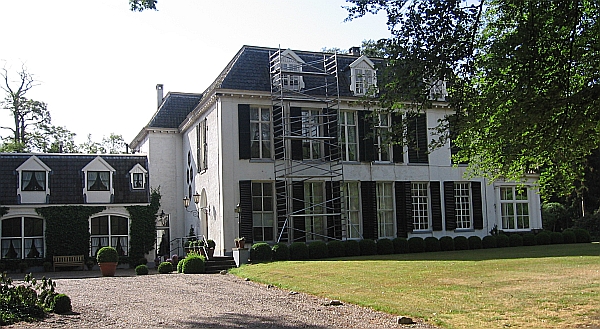 There's a wonderful national park in that area, called Hoge Veluwe. Transportation within the park is mostly by bicycle, with large racks of "white bikes" for visitors to use. (Smallish wheels and step-through frames with very long adjustable seat posts allow one size to fit almost everyone.)
The park area has been overgrazed since the middle ages, turning large areas first into heaths and eventually into bare drifting sand dunes that support some very unusual plants and animals for the area. In the absence of large flocks of sheep, "conservation" in the park now confusingly involves plowing up the grass that would otherwise take over the dunes.
Inside the park is a modest-sized art museum with a very impressive collection. The park and museum together were a gift to the nation from a very wealthy couple; he bought up the land and she bought the art.
Unlike any other art museum in our experience, this one allows you to take pictures, as long as you don't use flash. They have a lot of Van Gogh's, but also lots of other stuff.
They had a special exhibition of Herman de Vries, a high-concept artist fascinated with the similarities and differences in nature, or with the colors of dirt samples that he's collected from around the world.
We were very struck by this de Vries, made by writing the word "Unity" many times in many different colors.
Outside the museum is an even more impressive sculpture garden.
They have one of Rietveld's famous chairs inside the museum, and in the garden, they have a pavilion that he designed, showing that even very simple materials can be impressive if the design is right.
This wonderful sculpture was made by sawing off rocks and then wiring them together.
The park is stocked with unusual breeds of sheep, boars, and deer, here seen from an amazingly-built blind.
In some parts of the park, you find parallel rows of trees that were planted by two different landlords each marking their side of the boundary. Notice, too, in the foreground that the boars have been busy rooting in the dirt.
We stopped off the next day at Zutphen, a town that was a member of the Hanseatic League. It was already old in the 12th century, when the Amsterdam area was still just a marsh.
Its new train station has a bicycle garage in the basement.
Then we drove back west across a long dike to the former fishing village now beach resort town of Egmond aan Zee.
You can sun quite nicely if you rent a half-tent to shelter yourself from the wind.
We spent the whole next day on a long hike through the dunes conservation area north of town.
Animals are grazed in parts of the dunes.
And, given the season, there were lots of pretty wildflowers.
Finally, we visited Amsterdam's central square one last time on the morning of our flight out, and enjoyed this street band's performance
---
Back to ramshaw.info home page
Updated 2009-06-11